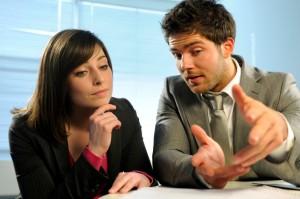 There are many things a man should keep in mind before approaching a girl. There are some basics of dating and things which if kept in mind can give positive results. When everyone is going the same old way of approaching girls with the slang "I like you", you should try approaching a girl in a different way. Well why, because you are different from the crowd. Below here is a dating guide for guys which can be helpful in making the right decision.
Confidence is the key
There are many things a girl will look for in a man and confidence is the first one. A man who is confident enough is always appealing to girls. A confident man can make a girl stand on her toes and ask for anything with ease. While every other girl wants his man to be confident, don't miss out on this trait. Develop a confident self which can improve your way of approaching a girl.
Well dressed
This is a major point in the dating guide for guys. A tailored suit does the same to girls what bikini does to men. A well dressed man is always appealing and handsome. The other trait is taken into consideration later but first is the dressing sense of the man. Good shoes and well tailored suit can add more charm to the manliness of the man.
Every girl will agree to this point that a well dressed man is always in demand. This has psychological impacts over the brain of a girl that you live your life in a better way.  Clean and well fit suits are the essentials of a man's wardrobe.
Possessing a beard-
It takes time but, once it has grown to the fullest, it magically allows more attention to prevail. Beards have been since ages being associated with manliness. Girls most of the times, want the man they are dating to be mature. If a man has the patience to grow a beard, he has the patience to deal with everything else too. However, having a beard is solely your choice.
Humble and humorous
The dating guide for guys also includes two most important "H" of dating a girl! Be humble and humorous. This helps at the first and the future dates. Every girl wants his man to be gentle towards people and tough only when required. There is also a requirement of being humorous which adds to the points you will score at your first date. A girl can never say no to a man who has made her laugh so much and is down to earth. In case, she does not see you as someone she can romance with, then this has no use. But, if she does this combo it will help you nail it on the first date.
Well mannered-
A well mannered man is liked by everyone including girls. There are many ways by which the first impression can last for many days, which is being well mannered. There are moments in which a person goes rude or does not behave well; this is a big turn off for girls who are looking to date someone. One has to be very precise in making the right choice for the selection of the traits that he has got to display. A perfect dating guide for guys would suggest being well mannered. Losing out on everything and being rude and short tempered can be a big no.
Treating the girl with respect-
You are halfway done if you made it clear to the girl that you will leave no stone unturned in order to treat her well. Every girl needs a man who can treat her with respect and care. The first thing she would notice about you is that how you make her feel. People have the tendency to forget what you said but, they will never forget how you made them feel. So, make sure you give the best in making her comfortable and allow her to feel respected. Opening the door before she walks in and pulling out the chair for her to sit can be one of the traits of a gentleman. Everyone does not do these things because everyone does not have the quality of a real gentleman. This way you can ask a girl to be your girlfriend in less time.
Respecting her boundaries-
Don't get into a bad mood if she has 3 hours to meet. Every girl cannot make it all night long with you. If she has confined boundaries, it means she belongs to a good family where people care about her. Respecting her boundaries and time limits will not only help in making the relationship better but, it will help in better bonding too. You will soon see the signs a girl is interested in you.
Compliment her often and make her realize that she is beautiful-
Compliments are the gateway of a girl's heart. You can win her by giving her compliments and making her realize that she is beautiful. However, each and every girl is beautiful but, she needs the right man to tell her that. All her life a girl is waiting for someone who would do this to her. So, make sure that you leave no stone unturned in complimenting her often. This will add more points to your bucket and make your girl feel even better in your company. No need to ask everyone how to get a girlfriend in high school. Follow the tips mentioned and get yours in real quick time.
Respect her privacy-
Respecting each other's privacy is something which is appreciated and one can always gain respect if he does so. There is a saying that you cannot know a girl 100%. There is something always which she hasn't shared or told you. Let it remain private, when the time is right people speak their heart out. This can be termed as the one of the most important part of rules of casual dating.