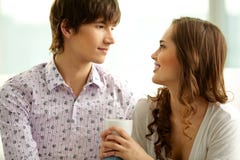 Meeting a woman suitable for life is hard for many men. But it is more hard and difficult for those men who are shy towards meeting a girl. The biggest problem that shy guys have is that they feel uncomfortable to go out and meet people. If being forced they will go out on a party or event but they don't have any idea of how to meet people and carry forward their conversations. So, if you are suffering from the inability of meeting the people and women, and don't know how to have conversation with them or how to interact with the girls mentioned below are some effective dating advice for shy men which can help them in attracting a girl towards them.
Find and meet the girl: It is hard for shy men to find a girl and they do not know how to approach them. They find themselves short on words while having conversation with them and carry forward that conversation to a healthy conversation. Shy men take too much stress while approaching a girl. That stress makes them look nervous and less confident. Always remember confidence is the main key that can help you in winning the battle against shyness. So, go out in the market and have some conversation with as many people as you want. Doing this can help you in increasing your confidence while approaching and talking to any girl who you like. Also, these interactions will help you to learn the technique of having conversation with the people whom you meet for the first time.
Make it slow: Make it slow while approaching the girl you like. You don't have a single day left to impress her. So, don't hurry at it, take your time and start with the slow proceedings. Approach nicely towards the girl with full confidence and start having conversation with her. Don't push your conversation, just make it look like a normal conversation that two people have in between them while meeting for the first time. Also, try to have conversation on the same ground or on basic topics, otherwise there are chances that she may have no knowledge of what you are talking to her. Your conversation doesn't have to be on meaningful or serious topics. You can also have conversation on silly things as long as they are appropriate. Your main focus should be on conversation rather than the topic. The topic can be anything, but the conversation should be nice.
Be honest with her: The biggest mistake that the shy guys make is that they try to present themselves as a hero and say many things which are wrong and a lie in order to impress them. Girls don't like those men who are fake and try to build their relationship on a lie. So, whatever you are, whatever your situation may be tell them directly and upfront. A lot of women like those men who are honest with them. Honesty can make you look more charming in front of her. Almost all women love those men who are honest while sharing their feelings and intentions with them. Honesty is the best dating advice for shy men.
Improve your body language: Your body language can define what kind of person you are from inside. Body language is the first thing that many people notice in you. Body language defines your behavior and personality to other people. So, whenever you meet a woman, approach her with full confidence, with right attitude, your face should be held up high, and make proper eye contact with her. These factors can help you in improving your body language while approaching the women you like. Make sure you smile too while having conversation with her. Smile will hide all your nervousness that you are feeling from the inside and the other person will feel that you are confident. Body language is an important dating advice for shy men who are looking to go out with a girl.
Show interest in her: Women like to catch attention. They are more like an attention seeker. They love when somebody gives them attention that they want. The mistake that the shy guys make is that they hide their intentions. The girl might be having a good time with you as a friend, but if you don't show her that you are interested in her, how is she going to know about your feelings towards her? There are possibilities that the girl might also be wondering that whether you are interested in her or not. So, always show her your interest and intentions whether you just want to be a friend of her or you want to make her as your girlfriend. The best ways to show your interest in her is by smiling at her while having conversation, looking in her eyes, giving her some compliments, and touch her in a healthy manner.
Commitment: Commitment is very important in achieving anything. Commitment is the energy that drives you towards achieving your goals. For attracting a girl towards yourself, you should be committed towards your decision of approaching and talking to her. Don't be afraid of making attempts while approaching your girl. Never run away from interacting with her, try as many attempts as you want to approach her and make your conversation with her. You should stick to your commitments, while maintaining a positive attitude no matter if she rejects you or reacts in a defensive way.
Ask her to go out: After all the interactions and conversations being made, now is the time to ask her if she would like to go out with you on a date. Ask her softly but confidently, and carefully watch her reactions. If she says no that doesn't mean that she is not interested in you. Maybe she needs more time to rely on you, or she is not ready yet to go out with you. Give her the time that she wants and don't force her to go out on a dinner or lunch.
These are some effective dating advice for shy men who are looking forward to meet a girl.