Marrying for love is all well and good, but for many people, marrying for money can be a fast ticket out of poverty or simply a step into luxury. The women on this list have found their way into the company of some very rich men. In the process, they've improved their bank balances, if not necessarily their quality of life. From the famous to the unknown, from happy unions to nightmare relationships, here is our list of the wives and companions of some of the world's top billionaire.
Salma Hayek – Wife of Francois-Henri Pinault, CEO and Chairman of Kering & Groupe Artemis
Thanks to her husband's job, Salma Hayek can afford to go shopping even for islands. Since 2009, she's been married to fashion mogul Francois-Henri Pinault, who is CEO of Kering, the fashion conglomerate that owns brands like Gucci, Alexander McQueen, and Balenciaga.
Pinault is worth approximately $28 billion as of 2018.
He is also CEO of Groupe Artemis, a holding company that owns Christie's auction house.
The couple has one child, daughter Valentina.
Melania Trump – Wife of Donald Trump, Real Estate Developer – President of the United States of America
Slovenian model Melania Knavs met the then-recently-separated Donald Trump at a party thrown by a mutual associate in 1998. After divorce attorneys finalized the billionaire developer's split from Marla Maples, Melania and Trump wed in 2005.
Trump is worth $3.5 billion as of March 2018, according to estimates from Forbes.
Melania gave birth to the couple's son Baron in 2006.
Donald and Melania became the First Family when Trump was elected President of the United States in 2016.
Priscilla Chan – Wife of Mark Zuckerberg, Founder and CEO of  Facebook
Pediatrician Priscilla Chan met Facebook CEO Mark Zuckerberg when they were both undergraduates at Harvard. The Massachusetts native is fluent in three languages. Chan and Zuckerberg married in 2012 and have two children together.
Thanks to Facebook, Zuckerberg is worth a whopping $72.5 billion.
Chan is an active philanthropist; her charity causes include healthcare and education.
Nikita Kahn – Wife of Larry Ellison, Co-founder and former CEO of Oracle Corporation
Ukrainian model Nikita Kahn dated Larry Ellison, founder of the computer company Oracle, from 2010 to around 2016. Ellison came up with the idea for Oracle while working as a private consultant for the CIA.
Forbes estimates Ellison's net worth at $62.4 billion, making him the eighth-richest person in the world.
Ellison opened a restaurant named after Kahn in 2013 called Nikita Malibu.
Ellison was accused of insider trading after selling $900 million worth of Oracle stocks shortly before the company announced quarterly revenue loss.
Diane von Fürstenberg – Wife of Barry Diller, Chairman of InterActiveCorp, Former CEO of Fox Broadcasting and USA Network
Designer Diane von Fürstenberg is famous in her own right, having popularized the casual "wrap dress" in the '70s. In 2001, she married Barry Diller, a media executive who capitalized on the business plan of cable television by inventing the made-for-TV movie.
Diller has a net worth of about $3.3 billion as of March 2018.
von Fürstenberg, who was born Diane Halfin, was previously married to German aristocrat Prince Egon von Fürstenberg.
Oleksandra Nikolayenko – Wife of Phil Ruffin, American Businessman
Ukrainian model Oleksandra Nikolayenko won several beauty pageant titles before meeting her husband Phil Ruffin. Ruffin's billions in earnings come from his various stakes in industries ranging from greyhound racing to real estate.
Phil Ruffin is worth approximately $2.7 billion as of 2018.
Ruffin is a friend of Donald Trump and owns half of the Trump International Las Vegas hotel.
The couple, who are 47 years apart in age, have two children.
Lucinda Southworth – Wife of Larry Page, Co-founder of Google Inc., CEO of Alphabet Inc & PageRank
Lucinda Southworth is a research scientist with an educational pedigree that includes Oxford and the University of Pennsylvania. In 2007, she married Google founder Larry Page, who is worth approximately $51 billion as of 2018.
In his time at Google, Larry Page was paid an annual salary of $1, a move that allowed him to avoid 35% Federal income taxes and instead pay just 15% tax on his gains from company stock.
Page left Google in 2015 to start the conglomerate company Alphabet, Inc.
Melinda Gates – Wife of Bill Gates, Co-Founder and Technology Advisor of Microsoft
Melinda Gates made a life-changing decision when she decided to major in computer science at Duke University. Her degree led to a job at Microsoft, where she met the company's founder (and her future husband), Bill Gates. The couple married in Hawaii in 1994.
Bill Gates is worth $91 billion as of March 2018, per Forbes.
Together, Bill and Melinda operate a charitable foundation that gives away hundreds of millions in grants to fund everything from agricultural research to disease control.
Claudia Barilla – Wife of Guy Laliberté, Founder of Cirque du Soleil
Claudia Barilla is a former model and is partnered with Quebecois entertainment tycoon Guy Laliberté. After being laid off from his job at a dam, Laliberté organized a group of talented Quebec street performers in an event called Cirque du Soleil. His efforts have paid dividends to the tune of about $1.4 billion as of January 2018.
Claude and Claudia have two children together.
The couple owns Montreal restaurant Orange Rouge.
Wendi Deng – Wife of Rupert Murdoch, Chairman & CEO of 21st Century Fox
Wendi Deng was born and raised in northeastern China and came to the United States on a student visa in the late '80s. After earning an MBA from Yale, Deng took a job overseeing business finance for a Fox affiliate in L.A. It was through this job that Deng met and married Fox's CEO, Australian billionaire Rupert Murdoch.
Deng and Murdoch split in 2013 amid rumors of her growing relationship with former British Prime Minister Tony Blair.
In 2018, the Murdoch-owned Wall Street Journal reported that U.S. officials suspected Deng of being a spy for the Chinese government.
Kristy Hinze – Wife of James Clark, Founder of Silicon Graphics, Inc.
Australian model Kristy Hinze found fame on America's Next Top Model before meeting billionaire husband James Clark. Clark made a fortune in Silicon Valley thanks to innovations in 3D computer graphics.
Clark is 36 years Hinze's senior; the couple has two children together.
Hinze hosted the first two seasons of Project Runway Australia.
Clark has contributed time and money to charities like the World Wide Fund for Nature.
Katsia Damankova – Wife of Anton Zingarevich, Former Owner of Reading Football Club
Belarusian-born model Katsia Damankova has an impressive list of credits to her name, including runway shows for Victoria's Secret. She is married to Anton Zingarevich, son of billionaire Russian oligarch Boris Zingarevich.
Anton has used his inherited wealth to purchase the English soccer team Reading F.C.
Katsia won Ford Models' Supermodel of the World beauty pageant at age 16.
Tamiko Bolton – Wife of George Soros, Founder of Soros Fund & Open Society Foundations
Tamiko Bolton is a former health and fitness entrepreneur who married Hungarian-American billionaire George Soros in 2013. Soros began his career in London as an investment banker, eventually accumulating a fortune of about $8 billion.
Soros is also well-known for funding high-profile liberal social causes and backing American Democratic candidates.
Bolton was the target of a lawsuit by Soros' ex-girlfriend regarding the ownership of his Upper East Side apartment.
Nita Ambani – Wife of Mukesh Ambani, Chairman and Managing Director of Reliance Industries
A native of Mumbai, Nita Ambani is the wife of Indian billionaire Mukesh Ambani. As the son of a manufacturing tycoon, Mukesh used his connections to create one of the world's largest petroleum refineries. His company Reliance Industries and his various stock investments have made Ambani an estimated $41 billion.
As of 2018, Mukesh is the richest Indian person in the world and the world's 18th richest person overall.
Nita owns her hometown cricket team, the Mumbai Indians.
Elena Perminova – Wife of Alexander Lebedev, Part Owner of Novaya Gazeta, Owner of The London Evening Standard and The Independent.
Elena Perminova is a popular Siberian model who is married to Russian banker and media magnate Alexander Lebedev. Lebedev made a fortune in finance before acquiring half of the Russian newspaper Novaya Gazeta and a majority stock share in the English papers The London Evening Standard and The Independent.
Elena and Alexander met when he used his political influence to get her out of jail following her drug arrest.
Lebedev's Novaya Gazeta is known for being critical of the establishment politics of Vladimir Putin.
Julie Chen – Wife of Leslie Moonves, CEO of CBS Corporation
Julie Chen is a broadcast journalist and producer for CBS. She began dating her boss, CBS CEO Les Moonves, in 2004. They married that same year, just two weeks after divorce attorneys sanctioned his split from ex-wife Nancy Wiesenfeld.
Moonves has been CEO of CBS since 2003. He has a net worth of about $700 million as of 2018.
The couple has one child together, a son born in 2009.
Andrea Hissom – Wife of Steve Wynn, Former CEO of Mirage Resorts & Wynn Resorts
Andrea Hissom is the ex-wife of English financial advisor David Hissom and the current wife of Las Vegas casino and resort owner Steve Wynn. Wynn's various holdings have pulled in a fortune of about $3.6 billion as of 2018.
Wynn stepped down from his post as finance chair of the Republican National Committee amid allegations of harassment by several women in 2018.
Hissom has two sons from her prior marriage, one of whom is singer Nick Hissom.
Mackenzie Bezos – Wife of Jeff Bezos, CEO of Amazon
Although Mackenzie Bezos earned her B.A. from Princeton in English, she went into finance after graduating in 1992. She met her husband, future Amazon CEO Jeff Bezos when he interviewed her for a job at New York brokerage firm D.E. Shaw.
Bezos is worth an incomprehensible $129 billion as of 2018, making him the richest person in modern history.
Jeff and Mackenzie have four children together.
Fabiana Flosi – Wife of Bernie Ecclestone, Chairman Emeritus of Formula One Group
In 2012, billionaire Bernie Ecclestone married Fabiana Flosi, a Brazilian racing executive 46 years his junior. Ecclestone had humble beginnings as a fisherman's son but eventually became CEO of Formula One, the corporation that sponsors the prestigious global car races known as "Grands Prix."
Ecclestone's net worth was estimated at $3.5 billion as of 2018.
He made a profit of about $4.8 million on an initial investment of $120K in the English racing team Brabham.
In 2010, the couple was assaulted and robbed of about £200K ($280K).
Princess Ameera Al-Taweel – Wife of Prince Al-Waleed bin Talal, Chairman & CEO of Kingdom Holding Company
Ameera al-Taweel was born in Saudia Arabia and educated in the United States. She married Saudi Prince Al-Waleed bin Talal in 2008, although they divorced in 2013.
As the grandson of Ibn Saud, the first king of Saudi Arabia, Al-Waleed receives an annuity of $180K.
Al-Waleed made his first millions from construction projects during Saudi Arabia's oil boom; he grew his fortune to approximately $18.7 billion by investing in the banking and entertainment sectors.
Al-Taweel met Al-Waleed when she interviewed him for a school assignment at age 18.
Anne Wojcicki – Wife of Sergey Brin, Co-founder of Google & President of Alphabet
Anne Wojcicki is an entrepreneur who founded the popular genetic home-testing service 23andMe. In 2007, she married Google co-founder Sergey Brin, who has a net worth of about $49.5 billion as of early 2018.
The couple met when Sergey founded Google in Anne's sister's garage.
Brin and Wojcicki separated in 2013; divorce attorneys finalized their split in 2015.
Wojcicki's own company 23andMe was valued at approximately $1.5 billion in 2017.
Talulah Riley – Wife of Elon Musk, CEO of SpaceX, Co-founder, CEO, and product architect of Tesla, Inc., Co-founder, and CEO of Neuralink
Talulah Riley is an English actress who made an appearance 2010's Inception. Riley started dating space age entrepreneur Elon Musk in 2008 and married him in 2010. Although the couple divorced in 2012, they married again in 2013; unfortunately, the second marriage also ended in a visit to divorce attorneys three years later.
Musk has made about $20 billion through his electric car company Tesla Inc. and aerospace company SpaceX.
Musk has five children with his first wife, writer Justine Musk.
Alexandra Lenas – Wife of Sean Parker, Managing Partner at The Founders Fund, Co-founder of Plaxo, Napster, Airtime, and Causes, Former President of Facebook
Many artists are doomed to lives of bankruptcy and frustration. That won't be the case for singer-songwriter Alexandra Lenas, who married billionaire Sean Parker in 2013. Parker co-founded Napster and was an early advisor to Mark Zuckerberg, serving as president of Facebook in its early days.
Parker was played by Justin Timberlake in David Fincher's 2010 movie The Social Network.
According to Forbes, he is worth an estimated $2.6 billion as of March 2018.
Laurene Powell Jobs – Wife of Steve Jobs, Co-founder, Chairman, and CEO of Apple Inc, CEO of Pixar
Laurene Powell snuck into a lecture given by Steve Jobs when she was an MBA student at Stanford. After she started a conversation with the young entrepreneur, the two hit it off and were married just over a year later.
Jobs founded Apple. Inc and changed modern personal computing, earning him approximately $10.2 billion at the time of his 2011 death.
Laurene made a significant investment in Washington, DC-area sports when she bought a 20% share of the Washington Wizards, Washington Capitals, and the Capital Arena in 2017.
Kate Greer – Girlfriend of Jack Dorsey, Founder of Twitter Inc.
Kate Greer and Jack Dorsey are one of the few couples on our list who are remarkably close in age. Greer, a former gossip columnist, dated Dorsey on and off from 2010 to 2017. Dorsey founded Twitter as well as mobile payment interface Square.
Dorsey's earnings total approximately $4 billion as of March 2018, per Forbes.
Kate launched Cheerie Lane, an Iowa-based popcorn company, in 2015.
Stephanie Seymour – Wife of Peter Brant, Chairman of White Birch Paper, Brant Publications, Brant Foundation
Stephanie Seymour is an actress and former model who has appeared in the pages of Sports Illustrated and on the cover of Vogue. In 1995, Seymour married publishing and paper processing magnate Peter Brant.
Although his assets White Birch Paper Company and SP Newsprint Co went bankrupt in the 2010s, Brant is worth $2.5 billion as of 2018.
Seymour began dating Brant shortly after breaking up with Guns N' Roses singer Axl Rose.
The couple filed for divorce in 2009 but reconciled in 2010.
Malia Andelin – Wife of Sumner Redstone, Chairman of National Amusements Chairman Emeritus of Viacom and CBS Corporation
Malia Andelin was a flight attendant on the CBS corporate jet when she met — and then started courting — the network's owner, Sumner Redstone. Redstone owns a national chain of movie theaters as well as CBS Corporation and Viacom.
At 93 years old as of 2018, Sumner Redstone is worth an estimated $4.8 billion.
Redstone reportedly saved Andelin from defaulting on her mortgage in 2008; he already had a girlfriend at the time, Sydney Holland, who tried to put an end to Redstone and Andelin's relationship.
Eloise Broady – Wife of John Paul DeJoria, Co-founder of The Paul Mitchell Line of Hair Products and The Patrón Spirits Company
Eloise Broady DeJoria is a former Playboy Playmate and an actress who appeared in 1989's Weekend at Bernie's. In 1993, she married John Paul DeJoria, a former janitor who launched the Paul Mitchell hair care company with a loan of $700.
Per Forbes, John Paul DeJoria is worth $3.4 billion as of 2018.
John and Eloise have donated money to Ted Cruz and Rick Perry, as well as to some Democratic candidates.
Vicky Safra – Wife of Joseph Safra, Chairman of Banco Safra
Vicky Safra (whose maiden name is Sarfati) is married to Syrian-Brazilian financier Joseph Safra. Joseph Safra's family has a history of bank administration dating back hundreds of years; he owns and operates Safra Group, which includes Banco Safra, one of the largest financial institutions in Brazil.
Joseph Safra has a personal fortune of about $24 billion.
His father Jacob moved the Safra family from Syria to Brazil in 1952.
Christina Estrada – Wife of Walid Juffali, Chairman of E.A. Juffali and Brothers
Christina Estrada is an American model who has appeared in the pin-up calendar produced by Italian tire manufacturer Pirelli. From 2001 to 2014, she was married to Saudi businessman Walid Juffali.
Juffali died in 2016, leaving behind a fortune estimated at $4 billion.
Estrada's lawyers in England were able to secure a settlement of about $1 billion in her 2014 split from Juffali.
The couple had one child together.
Princess Charlene of Monaco – Wife of Albert II, Prince of Monaco
Zimbabwe-born Charlene Wittstock joined the enviable company of Grace Kelly when she became Princess of Monaco in 2011. Charlene is married to Albert II of Monaco, one of Europe's few remaining monarchs.
Albert's family fortune of $1 billion comes from land holdings in Monaco and France, as well as stock holdings in Monaco's famous Monte Carlo casino.
Before marrying Albert, Charlene was an Olympic swimmer who represented South Africa at the 2000 Olympics in Sydney.
Miranda Kerr – Wife of Evan Spiegel, Founder of Snapchat
One of the more recognizable names on our list, Miranda Kerr was a Victoria's Secret Angel before she met and married Snapchat CEO, Evan Spiegel. At the time of the wedding, Kerr was 33, six years older than Spiegel.
Spiegel's Stanford classmates originally derided his early business plan for the app; as of 2016, Snap, Inc. was valued at $22 billion.
Spiegel's personal worth is estimated at $4.3 billion.
The couple has one child together.
Ricky Anne Low-Beer – Wife of Ralph Lauren, Founder & CEO of Ralph Lauren Corp.
Ricky Low-Beer is a photographer and author who has sustained a 54-year marriage to fashion designer and lifestyle guru Ralph Lauren. The Laurens have three children together and, as of 2018, $6.4 billion.
Ralph has identified Ricky as his muse, claiming to have initially designed clothes that would appeal to her.
The couple's daughter Dylan launched popular candy store chain Dylan's Candy Bar on a loan from her father.
The Ralph Lauren Corp. has designed uniforms for the United States Olympics team since 2008.
Kate Capshaw – Wife of Steven Spielberg, Director, Producer, Screenwriter
Actress Kate Capshaw was still a Hollywood newbie when she met director Steven Spielberg on the set of Indiana Jones and the Temple of Doom in 1984. They married in 1991 and have seven children together, two of whom are from previous marriages.
Spielberg's dozens of movies have made box offices earnings north of $9 billion.
The director's personal net worth is estimated at $3.6 billion as of March 2018.
Gabi Holzwarth – Girlfriend of Travis Kalanick, Co-founder of Red Swoosh and Uber
Gabi Holzwarth is a classical violinist who began performing on the street in Palo Alto when she found herself bankrupt and homeless after dropping out of college. Her musical busking eventually landed her a gig performing at Uber founder and CEO Travis Kalanick's house. The pair subsequently dated for two years.
Kalanick's wealth was estimated at $4.8 billion in 2018 by Forbes
Since breaking up with Kalanick in 2016, Holzwarth has spoken to the press about Uber's corporate culture of misogyny and harassment.
Hope Dworaczyk – Wife of Robert F. Smith, Chairman of Vista Equity Partners
Hope Dworaczyk was named Playboy's 2010 Playmate of the Year and competed on Celebrity Apprentice in 2011 before meeting husband Robert F. Smith. Smith is a financial advisor who manages assets worth $30 billion in his firm Vista Equity Partners.
Smith's fortune is estimated at $4.4 billion as of 2018.
The couple married in 2015 and have two children together.
Jade Foret – Wife of Arnaud Lagardère, Managing Partner of the Lagardère Group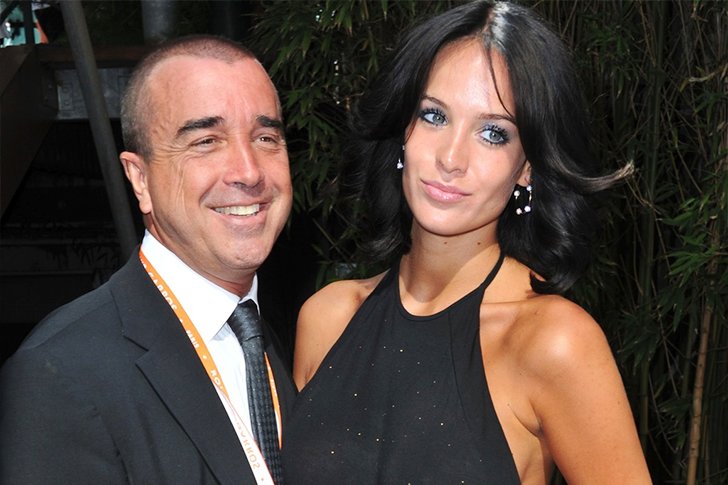 Belgian model Jade Foret has been posing for cameras and walking runways since she was just 12. In 2010, she became involved with Arnaud Lagardère, heir to and manager of the French conglomerate Lagardère Group, which maintains investments in various media ventures. The couple married in 2013.
Lagardère is worth approximately $2.4 billion as of 2018.
Video footage of a photo shoot featuring Arnaud and Jade at his country house drew criticism for its vulgarity and speculation that Lagardère is unfit to manage his father's company.
Dasha Alexandrovna Zhukova – Wife of Roman Abramovich, Owner of Millhouse Capital, Evraz and Chelsea F.C., Major Shareholder of Norilsk Nickel
Born in Moscow and raised and educated in Los Angeles, Dasha Zhukova was primed for entry into Russian high society from a young age. Dasha married billionaire financier Roman Abramovich in 2008 and raised two children with him before divorcing in 2017.
Although details of the couple's divorce settlement were not made public, Roman paid $220 million when he split from his first wife, Irina Malandina.
Dasha Zhukova already has a considerable inheritance thanks to her father, oil trader Alexander Zhukov, who is worth hundreds of millions as of 2018.
Kirsty Bertarelli – Wife of Ernesto Bertarelli, Chairman of Waypoint Capital Group, Co-Chairman of Bertarelli Foundation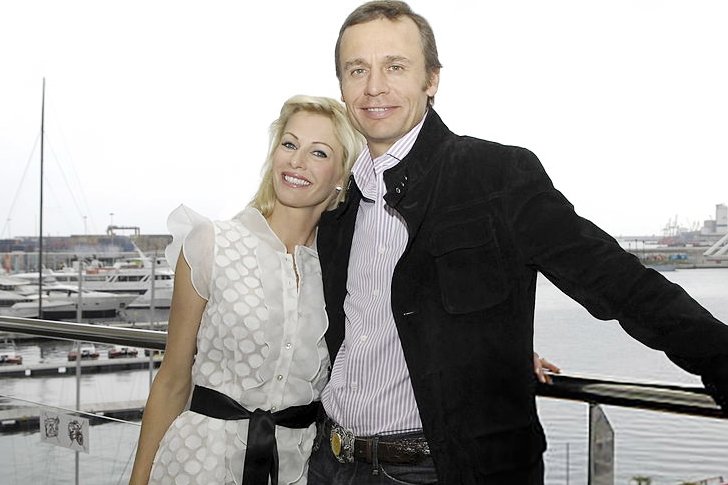 Kristy Bertarelli is a former beauty queen and the current wife of Italian billionaire Ernesto Bertarelli. Ernesto inherited his grandfather's pharmaceutical company and shifted its business plan to biotechnology, just as the industry started to take off in the late '90s.
Kirsty is also a songwriter and wrote Black Coffee, which became a hit for English girl group All Saints.
Ernesto's net worth was evaluated at about $8.9 billion as of 2018.
Noemi Letizia – Had Affair With Silvio Berlusconi, Former Italian Prime Minister
Noemi Letizia's relationship with former Italian Prime Minister Silvio Berlusconi was quite infamous because she was his mistress from when he was still married to Veronica Lario. Lario instantly filed for a divorce once she found out about her husband's affair.
Noemi's nickname for Silvio is "Papi."
Noemi said in an interview that Silvio was very supportive when it came to her career choices.
The two aren't together anymore.
Emily Lerer – Wife of Ben Lerer, Chief Executive Officer of the Thrillist Media Group
Ben Lerer is a wealthy entrepreneur from New York and the man behind Thrillist and Lerer Ventures. He is married to Emily Lerer and unlike other wives who use their husband's money for shopping, Emily actually wants to do something good with it. She put up a nonprofit organization named Project Tutor which serves as a platform for providing tutoring services to children.
Ben Lerer was wealthy ever since he was a young boy.
Ben's father is The Huffington Post co-founder, Kenneth Lerer.
Thrillist was established way back in 2004.
Alison Gelb – Former Wife of Mark Pincus, CEO of Zynga Inc.
Alison Gelb is the former wife of Zynga Inc. CEO, Mark Pincus. Gelb might have been married to a billionaire but she is actually a millionaire on her own after she put up her own successful home decor website, One Kings Lane. Her website has millions of subscribers so we doubt she would ever end up bankrupt even after their divorce.
Alison and Mark got married in 2008 but filed for a divorce in 2017.
Mark Pincus has a net worth of $1.54 billion.
One Kings Lane is said to be worth around $440 million.
Susan Dell – Wife of Michael Dell, CEO of Dell
Susan and Michael Dell have been happily married since 1989. Michael Dell is the man behind Dell Technologies. Even if the couple has so much money in their bank account, they still choose to be humble about their fortune and would rather live a quiet life.
Michael's net worth is estimated to be around $23.5 billion.
The couple is very active in supporting different charitable causes.
Dell donated around $36 million for the victims of Hurricane Harvey in 2017.
Erica Baxter Packer – Former Wife of James Packer, Former Executive Chairman of Publishing & Broadcasting Limited (PBL), Consolidated Media Holdings & Former Executive chairman of Crown Resorts
Australian businessman, James Packer, once had a marriage with Ericka Baxter. The two got married in 2007 but sadly, decided to get a divorce in 2013. Ericka is known for her work as a singer and she has already released her own album back in 2007.
The couple's wedding was said to be worth around $15 million.
The couple has three kids together.
James Packer has a net worth of $3.9 billion.
Joan Branson – Wife of Richard Branson, Co-founder of the Virgin Group
Richard and Joan Branson are a couple that will make you believe in love because they will be celebrating their 30th year married to each other in 2019. Richard Branson is a billionaire who got his fortune, thanks to the success of the Virgin Group.
The couple has two children together.
Joan was actually married when she and Richard first met.
Richard's net worth is said to be around $5 billion.
Julia Koch – Wife of David Koch, Vice President of Koch Industries
David Koch is a hardworking businessman and is Koch Industries' current Vice President. He and wife Julia Koch have been married to each other for more than two decades already. Both of them share an interest in supporting numerous philanthropic organizations.
David Koch has a net worth of $60.5 billion.
Koch Industries has a yearly revenue that amounts to $115 billion.
David's father, Fred C. Koch, is the man who founded Koch Industries.
Diana Taylor – Partner of Michael Bloomberg, CEO of Bloomberg L.P.
Michael Bloomberg takes credit for being the 10th wealthiest man in the whole world. Diana Taylor is his partner with whom he's been in a relationship since 2000. We wonder if he will ever decide to finally make Taylor his wife because we're sure he can afford to throw one spectacular wedding.
Michael Bloomberg's net worth is $49.6 billion.
Diana used to be a banking superintendent in New York.
Michael was married to Susan Elizabeth Barbara Brown from 1975-1993.
Flora Marcote – Wife of Amancio Ortega, Co-founder of the Inditex Group
Amancio Ortega and Flora Marcote's love story is something that could be from a romantic-comedy film. Flora used to work as his secretary but they later fell in love and got married in 2001. Ortega is the man behind the Inditex Group which houses brands like Zara, Bershka, and Massimo Dutti.
Amancio Ortega has a net worth of $70 billion.
Back in 1975, the first Zara store was put up.
Ortega might be a billionaire but he prefers to live a simple lifestyle
Flavia Sampaio – Partner of Eike Batista, CEO of the EBX Group
Eike Batista used to be a billionaire through his work as an oil and mining magnate. His wealth came crashing down in 2013 when the EBX group was buried in debt and declining stock prices. Flavia Sampaio is his girlfriend who is quite successful on her own because of her work as a lawyer and businesswoman.
Eike's net worth used to be $30 billion.
Corruption and money laundering were the reasons why Eike was arrested in 2017.
Flavia has a non-profit organization called Institute Consciousness.
Queen Noor of Jordan – Wife of Hussein bin Talal, Former King of Jordan
King Hussein of Jordan got married to Lisa Halaby/Noor Al-Hussein back in 1978. Noor and Hussein actually met when Hussein was buried in sorrow after his third wife, Alia Toquan, passed away. Hussein and Noor stayed married up until Hussein's death in 1999.
The couple has four children together.
Hussein had gone through three marriages before marrying Noor.
Queen Noor used the inheritance to make a positive change in the world.
Carolyn Persson – Wife of Stefan Persson, Chairman of H&M
We're sure that Carolyn Persson, shopping has never been a burden since she is married to Stefan Persson who is H&M's chairman. Unlike other wealthy couples who love to be flashy with their riches, the Perssons choose to live a quiet lifestyle.
The couple has three children together.
Stefan's net worth is $15.7 billion.
H&M was founded in 1947 by Stefan's father, Erling Persson.
Irina Viner – Wife of Alisher Usmanov, Owner of MegaFon, Owner of USM Holdings, Co-Owner of Mail.Ru Group, Shareholder of Arsenal F.C. & Sponsor of Finch Farm
Alisher Usmanov is a business magnate from Russia. Mining, metals, and numerous investments are what made him live in affluence. His wife, Irina Viner, is a very busy wife because she also works as a rhythmic gymnastics coach.
Usmanov has a current net worth of $13 billion.
Viner was the coach in gymnastic that bagged the Olympic Order award.
Viner trained champion gymasts like Margarita Mamun, Evgeniya Kanaeva, and Alina Kabaeva.
Anne Dias – Former Wife of Kenneth Griffin, Founder & Chief Executive of Citadel
Kenneth Griffin is the man behind the big investment firm, Citadel. He married Anne Dias back in 2003 but sadly, the couple got a divorce in 2015. Anne proved that she was more than just good looks because she is an established money manager that founded a hedge fund company called the Aragon Global Management.
The cause of their divorce was said to be "irreconcilable differences."
Kenneth Griffin has a net worth of $9 billion.
The former couple has three children together.
Tiffany Stewart Cuban – Wife of Mark Cuban, Owner of the Dallas Mavericks, Co-owner of 2929 Entertainment & Chairman of AXS TV
Mark and Tiffany Stewart Cuban have been married since 2003. Mark is a wealthy businessman and investor who basically owns the Dallas Mavericks. He is also publicly known for being a "shark investor" in the hit reality show, Shark Tank.
Mark Cuban has a net worth of $3.7 billion.
The couple has three children together.
Mark is known for having a feud with current U.S. President, Donald Trump.
Gail Golden-Icahn – Wife of Carl Icahn, Founder & Controlling Shareholder of Icahn Enterprises
Carl Icahn is the man behind the holding company, Icahn Enterprises. His wife, Gail Golden-Icahn, used to actually work as his assistant. They later had an office romance that eventually led to their marriage in 1999. They have been married ever since and Gail is very well-involved in Icahn's company.
Carl has two kids from his previous marriage but no kids with Gail.
Gail had a past with working as a broker.
Carl has a net worth of $17.3 billion.
Janet Jackson – Wife of Wissam Al Mana, Executive Director and  Co-owner of Al Mana
Wissam Al Mana works as the Al Mana Groups' executive director. He got married to singer Janet Jackson in 2012 and the couple has a son together. Jackson has made a fortune in her bank account over the years so we doubt Al Mana's fortune was ever a big deal for her.
Sadly, the couple separated in 2017 and have yet to file for a divorce.
Wissam has a net worth of $1 billion.
Janet Jackson has a net worth of $175 million.
Dr. Precious Makgosi – Wife of Patrice Tlhopane Motsepe, Founder of African Rainbow Minerals
Patrice Motsepe founded the gold mining company called African Rainbow Minerals. He is married to Dr. Precious Makgosi who works as a physician and owns a fashion company. Makgosi also owns a women's health clinic that has helped so many people already.
Patrice has a net worth of $2.1 billion.
Patrice donated have his fortune to charity back in 2013 when he joined The Giving Pledge.
The couple has three children together.
Elisabetta Gregoraci – Wife of Flavio Briatore, Italian Businessman
Elisabetta Gregoraci is a known model who got married to Flavio Briatore who is a famous Italian businessman. Briatore was once the manager of Renault F1 but he was impeached in 2008 after getting involved in a race-fixing scandal. Gregoraci and Briatore have separated in 2017 and you can only imagine how much she will get after their divorce is finalized.
The couple has a son together.
Briatore was once engaged to Naomi Campbell and has a child with Heidi Klum
Famous Formula One driver, Fernando Alonso, was the bridal car driver during Gregoraci and Briatore's wedding.
Kristin Georgi – Wife of Joseph Hardy III, CEO & Founder of 84 Lumber Company & Nemacolin Woodlands Resort
Joseph Hardy is the man behind the 84 Lumber Company and Nemacolin Woodlands Resort. When it comes to the women Joseph Hardy married, age was never anything more than a number. Kristina Georgi was his third wife who was 22 years old when they tied the knot back in 2007. Sadly, the two decided to file for a divorce just nine months after getting married.
Kristina worked as a nail salon employee.
Hardy has a net worth of $1.2 billion.
Hardy's most recent wife is Jodi Santella Williams.
Sonia Tudor Jones – Wife of Paul Jones, Founder of Robin Hood Foundation & The Tudor Investment Corporation
Paul Jones is a hedge fund manager and investor who is the man behind The Tudor Group. He is married to Sonia Tudor Jones who teaches yoga. She is quite successful on her own because she was able to put up her very own Ashtanga school. The couple has four children together.
Paul has a $4.5-billion net worth.
Paul founded the philanthropic organization called The Robin Hood Foundation.
Paul once hosted a fundraiser for Barack Obama during the 2008 presidential elections.
Gabrielle de Heinrich Sacconaghi – Wife of Louis Bacon Moore, Founder & Chief Executive of Moore Capital Management
Louis Bacon Moore is another man who built a billion-dollar company through being a hedge fund manager and investor. He is the brains behind the company, Moore Capital Management. He has been married to Gabrielle de Heinrich Sacconaghi ever since 2007 and it looks like the two are nowhere near breaking up.
Gabrielle works as an art consultant for wealthy people.
Louis has a net worth of $1.6 billion.
Gabrielle is a Cambridge University graduate.
Astrid Menks – Wife of Warren Buffett, CEO of Berkshire Hathaway
When it comes to investments, Warren Buffet is a frontrunner for he is considered a part of the top investors in the whole world. Warren met his wife Astrid Menks back in the '70s when she was still a waitress and he was married to the late Susan Thompson. When Warren and Susan separated, Astrid and Warren began a relationship and have stayed together ever since.
Warren and Astrid have been dating since the '70s but only tied the knot in 2006.
Warren and former wife Susan have three children together.
Warren has a net worth of $84.1 billion.
Heather Ann Rosbeck – Wife of William L. Wrigley Jr, Chairman of the Wm. Wrigley Jr. Company
Bill Wrigley or William L. Wrigley Jr. II comes from the family who founded the successful chewing gum company, Wrigley. He ended up marrying Heather Ann Rosbeck who has made a decent amount of earnings through her work as an actress. The couple has been married since 2007.
Heather appeared in movies like There's Something About Mary and Shallow Hal.
Bill has a net worth of $2.6 billion.
Bill's great-grandfather is the one who started the Wrigley company.
Helene Mercier – Wife of Bernard Arnault, Chief Executive Officer of LVMH
Bernard Arnault is undoubtedly enjoying a huge fortune, thanks to the success of his luxury-goods company, LVMH. He married pianist Helene Mercier in 1991 and have stayed in love ever since. Arnault and Mercier have three sons together.
Bernard was once married to Anne Dewavrin with whom he has two children.
Bernard has a whopping net worth of $80.3 billion.
Helene is still an active concert pianist until this day.
Jade Foret – Wife of Arnaud Lagardère,  General & Managing Partner Of Lagardère SCA
Arnauld Lagardère works as the general and managing partner of the Lagardère Group's holding company called Lagardère SCA. Jade Foret is his beautiful wife who is known to be a model. The couple got married in 2013 but gave birth to their daughter Liva a year before they tied the knot.
Arnauld's father is the former Matra and Hachette chairman, Jean-Luc Lagardère.
The couple has three children already.
Arnauld has a net worth of $2.4 billion.
Aleksandra Nikolic – Wife of Andrey Melnichenko, Shareholder of EuroChem, SUEK, and SGC
Andrey Melnichenko is a businessman and industrialist who happens to be a shareholder/non-executive director of EuroChem, SUEK, and SGC. He is married to Aleksandra Melnichenko who is known to be a model. They met in 2003 and had a very extravagant wedding in 2005.
Andrey has a $15-billion net worth.
The couple owns a luxury yacht that is believed to be worth more than $300 million.
They paid Jennifer Lopez $2 million just to sing at Aleksandra's 30th birthday.
Joan Dangerfield – Engaged to Kirk Kerkorian, Former President & CEO of Tracinda Corporation
The late Kirk Kerkorian was a wealthy casino mogul who used to be the CEO and president of a private holding company called Tracinda Corporation. Joan Dangerfield was the last woman Kirk dated before he passed away in 2015 due to natural causes. The two were engaged but never really planned to tie the knot.
Kirk was previously married three times but it all ended in a divorce.
He had around $4 billion in his bank account at the time of his death.
Kirk was an established philanthropist and was the man behind the Lincy Foundation.
Melanie Craft – Former Wife of Larry Ellison, Co-founder & former CEO of Oracle Corporation
Larry Ellison co-founded the tech company called the Oracle Corporation. He served as the corporation's chief technology officer as well as its executive chairman. He married romance novelist Melanie Craft in 2003 but the couple filed for a divorce after seven years of marriage.
Their wedding photographer was Ellison's good friend, the late Steve Jobs.
Larry has a $55.9 billion net worth.
Larry is also licensed when it comes to flying aircraft and he has two military jets.
Suzanne Ircha – Wife of Woody Johnson, Owner of the New York Jets
Aside from owning the New York Jets, Woody Johnson also works as the U.S. Ambassador to the U.K. He is married to Suzanne Ircha who previously worked as an actress. Suzzane also used to work at Sandler O'Neil and Partners as their equities managing director.
The couple has two children together.
Woody's great-grandfather co-founded Johnson & Johnson.
Woody had a previous marriage with former model Nancy Sale that lasted for more than two decades.